AMOEBA : Publication of a new scientific paper in Plants
AMOEBA: Publication of a scientific paper concerning the efficacy of its biocontrol products to fight tomato late blight and powdery mildews of tomato
Chassieu (France), October 18, 2023 – 17h45 – AMOÉBA (FR0011051598 – ALMIB) an industrial biotech in pre-commercialization* specialised in the treatment of microbiological risk, developing a biocontrol agent for the crop treatment in agriculture that has obtained a marketing authorization in the United States and a biological biocide that has also obtained a marketing authorisation in the United States for use in closed cooling systems, announces the publication of a third peer-reviewed scientific article on its biocontrol application in the special "Biological Control of Plant Diseases II" issue of Plants, a journal of the MDPI group.
This paper (https://www.mdpi.com/2223-7747/12/20/3603) presents, for the first time to the international scientific community, the efficacy of Amoéba's biocontrol products based on the lysate of the non-pathogenic amoeba Willaertia magna C2c Maky on tomato late blight and powdery mildews of tomato. As with grapevines and potatoes, scientific data on this newly-tested crop show: 
An indirect effect via stimulation of the plant's natural defenses by the active substance and the formulated product, AXPERA EVA.

Field efficacy against the pathogens Phytophtora infestans, responsible for tomato late blight; Oidium neolycopersici, responsible for external powdery mildew of tomato; and Leveillula taurica, responsible for inside powdery mildew of tomato.
The data were collected from trials carried out by independent contractors. As tomatoes were grown both in the greenhouse and in the field, the use of AXPERA EVA was validated for both cultivation methods during the 2022 trial campaign. Results show that the amoeba lysate of Willaertia magna C2c Maky, a naturally-occurring product, protects tomatoes against both late blight and powdery mildews, with efficacy of up to 97% on leaves and 100% on fruit.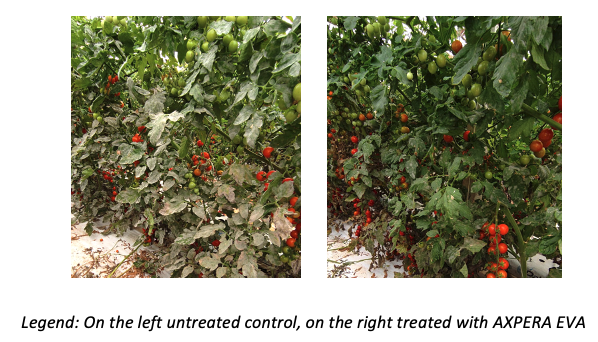 "This third scientific article in the field of plant protection, dealing with the efficacy of our biocontrol solution against late blight and powdery mildews in tomatoes, is part of an ongoing effort to increase scientific knowledge of the amoeba Willaertia magna C2c Maky. The data collected confirm the high potential of this amoeba lysate as a plant protection agent. We are continuing our R&D operations and tests on other crops, the results of which will also be the subject of new publications" declares Dr Sandrine Troussieux, chief scientific officer at Amoéba.