AMOEBA announces the beginning of construction of its USIBIAM biocontrol plant in Cavaillon
AMOEBA announces the beginning of construction of its USIBIAM biocontrol plant in Cavaillon
Chassieu (France), October 12, 2023 – 08h45 – AMOÉBA (FR0011051598 – ALMIB) a pre- commercialization* industrial biotech specializing in the treatment of microbiological risk, developing a biocontrol agent for the treatment of plants in agriculture and a biological biocide, and having obtained a marketing authorization in the USA for its biological biocide for use in closed cooling systems and a marketing authorization in the USA for its first biocontrol product (100% active substance), announces the start of work on the USIBIAM industrial project in Cavaillon on schedule.
A few weeks after the signing of the deed of sale on September 26 (cf. press release dated 22/09/2023), construction work on the USIBIAM (Usine Biocontrôle Amoéba) industrial project, supervised by GSE engineers, began in October and is scheduled to last until the end of 2024. The construction site has already mobilized a number of local companies: TPK (sanitation), Provençale de TP (earthworks and preparatory work), EBI Construction (masonry), Alpes Contrôles and Face.
Located in the heart of the Zone d'Activité des Hauts Banquets (Cavaillon, 84), this modern, eco- responsible industrial site will produce Amoéba's biocontrol agent, with a view to its commercial launch in 2025. Through its ambitious industrial project, Amoéba aims to reach an annual production capacity of 40 tonnes of active substance, guaranteeing the treatment of 100,000 hectares of agricultural soils.

A ceremony attended by local elected officials
To commemorate the start of this major project, on Tuesday October 10, 2023, Fabrice Plasson, CEO of Amoéba, joined by Roland Paul, President of GSE, Gérard Daudet, Mayor of Cavaillon and President of LMV Agglomération, Cathy Fermanian, Managing Director of Vaucluse Provence Attractivité, Bénédicte Martin, Vice-President of the SUD PACA Region and Christian Guyard, General Secretary of the Vaucluse Prefecture, have laid the foundation stone for Amoéba's biocontrol plant.
The event, attended by local politicians, representatives of local authorities, the regional press and the project's technical partners, was an opportunity for Amoéba to present its ambitions and commitments on a large scale in its new location.
"Seven years after the inauguration of the Chassieu industrial R&D center, the laying of the foundation stone for the USIBIAM industrial site marks the start of a great adventure for Amoéba: the reindustrialization of France through innovation. At the heart of France's first low-carbon urban development zone, USIBIAM will be a leading example of naturalness at the service of the agricultural and food transition. We are delighted to be setting up in Vaucluse, in the heart of the Southern Region, and to celebrate this major milestone alongside our elected representatives and partners, who are collectively contributing to the success of Amoéba's project", says Fabrice Plasson, Chairman and CEO of Amoéba.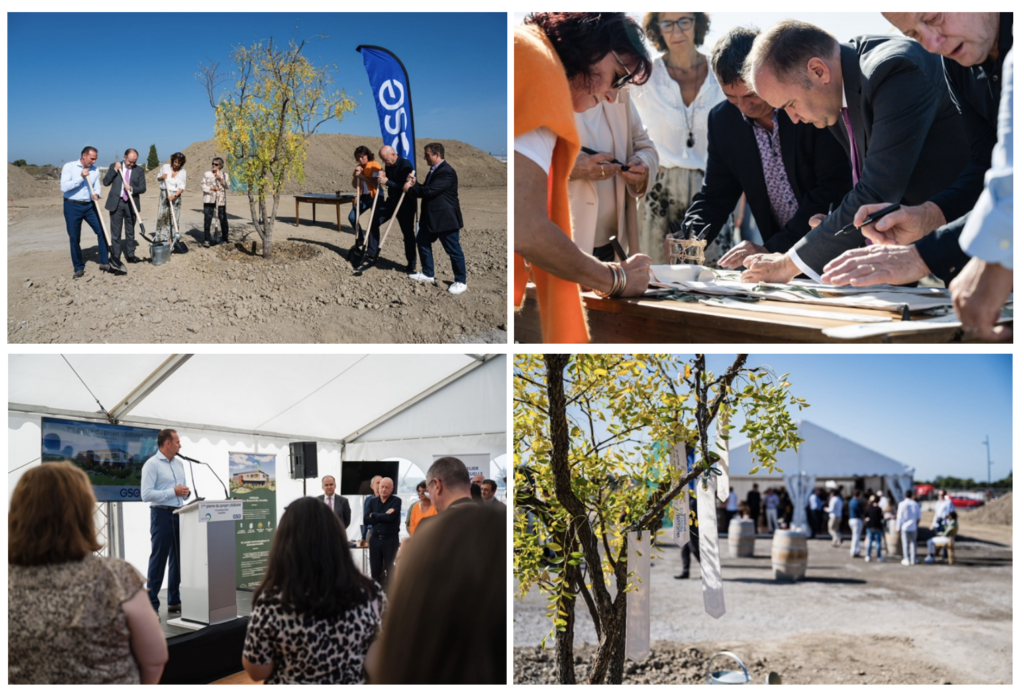 More information about USIBIAM project on Amoéba's website « Industrial Project". This project is supported by France 2030.
Read the press release in PDF : https://amoeba-nature.com/wp-content/uploads/2023/10/121023_ENG-CP-USIBIAM-VDEF.pdf